About / A bit about me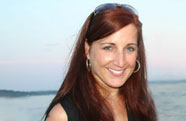 Hello! My name is Regina Recene and I am a creative director + graphic designer with an eye for innovation and a passion for design excellence. My career has taken me from small boutique design shops in Boston to leading the design team at Commonwealth Financial Network, the nation's largest, privately held independent BD-RIA. Along the way, I've covered all the bases, developing brand identities, advertising, print collateral, marketing campaigns, web sites, web applications, and more. I will use this experience to deliver the best creative that I can for you.
When I'm not in front of my computer, you will find me at the beach, cooking, running, or listening to music. I also love to travel and have had the opportunity to explore much of the U.S. and six other countries so far.
If you would like more detailed information on my background and experience, check out my LinkdIn profile.